IR/UV Sensor Screens
LUMITEK IR Sensor Cards work on a principle known as "Electron Trapping", where phosphor-based compounds are employed to absorb and "trap" incoming light energy from a short wavelength, and release that stored light in the form of visible light upon stimulation from a longer IR wavelength. The visible result is a localized glow which is relative in intensity to the amount of stored light and IR power levels exciting the active area.

Please contact to "info@tegascience.co.jp" for further information or quotation.
About IR/UV Sensor Screens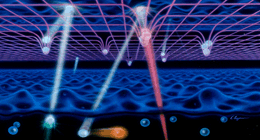 LUMITEK infrared Sensors contain special materials that will emit visible light when illuminated by infrared light from such sources as infrared lasers or light emitting diodes (LED).
The sensors require brief excitation by daylight, fluorescent, or any normal indoor light source in order to operate. Such "charging" may be accomplished in less than a minute, after which the phosphor is ready to detect and display infrared light. The phosphor cannot be overcharged even in full sunlight. The material has the capacity to remain charged for long periods.
Phosphor Sensitivity
ET Phosphor
Q-11
Q-16
Q-32
Q-42
Peak Emission Wavelength
(nm)/Color
625/Orange
485/Blue-Green
650/Red
640/Deep Orange
IR Wavelength Range(µm)
0.7 - 1.4
0.7 - 1.4
0.8 - 1.7
0.7 - 1.6
Min IR Intensity
(Dark)
12µW/cm2
10µW/cm2
8µW/cm2
3µW/cm2
Min IR Intensity
(Room Light)
500µW/cm2
500µW/cm2
500µW/cm2
100µW/cm2
Pump Wavelength
visible....UV
visible....UV
visible....UV
visible....UV
Resolution
(Typical)
3 Lp/mm
3 Lp/mm
3 Lp/mm
3 Lp/mm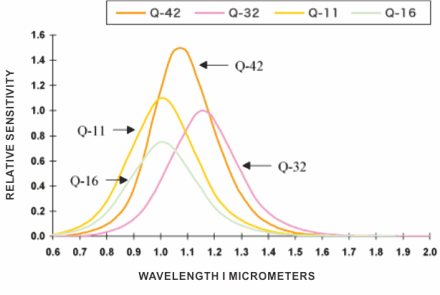 IR/UV Sensor Screens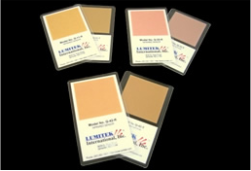 Laminated IR Sensor Screens
The laminated reflective (R) and transmissive (T) sensor screens are the most commonly used basic sensor products. The phosphor layer is laminated between clear plastic for a wide range of near-IR detection and imaging applications. These are our most popular sensor screens and are provided with a standard size measuring 2.5x4 inches overall with a 2x2 inch active phosphor area. RW and TW type screens apply double amount of phosphor materials.

<Product Number>
Q-**-R/T
Active Area(mm):51 x 51
Total Card Area(mm):102 x 64

Q-**-RW/TW
Active Area(mm):51 x 51
Total Card Area(mm):102 x 64

Q-**-R45/T45
Active Area(mm):127 x 102
Total Card Area(mm):184 x 108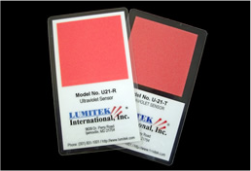 Laminated UV Sensor Screens
Unlike upconverting phosphors, U-21 downconverts UV to red visible. Broadly sensitive from 250nm to 500nm, it emits a red glow under UV impingement. The red emission is particularyly useful since UV laser goggles allow the red emission to be seen clearly through the UV safety goggles. The card is laminated in plastic except for the active phosphor area which permits UV transmission.

<Product Number>
U-21-R/T
Active Area(mm):51 x 51
Total Card Area(mm):102 x 64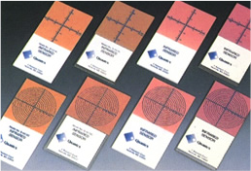 Laser Beam Alignment Screens
Phospher materials are placed on a rigid polycarbonate substrate (1/8" thick). The plastic sensor screen is 2"x4" and comes with either a concentric circle (CCR/CCT) or x-y axis silk screened reticle pattern (APR/APT). All are available in either transmissive or reflective mode screens. Each plate can be clamped, drilled and bolted or otherwise affixed to various fixtures for parmaent installation. The transmissive mode plates are made of clear plastic and the reflective ones are on opaque white acrylic so the image is viewable from the front only, and are therefore brighter than the transmissive screens.

<Product Number>
Q-**-CCR/CCT
Q-**-APR/APT
Active Area(mm):51 x 51
Total Card Area(mm):102 x 51
Thickness(mm)   :3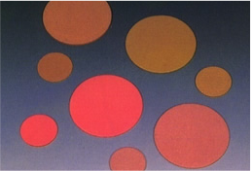 Optical Glass Sensor Screens
Optically clear 27mm and 54mm diameter glass covered with your choice of one of the phosphors is adhered to one side of the glass substrate. IR radiation emitting from your laser or LED source will be visualized from both the front and the back of the circular glass sensor screen.

<Product Number>
Q-**-SCR27(for IR)
U-21-SCR27(for UV)
Diameter(mm):27
Thickness(mm):2~2.4

Q-**-SCR54(for IR)
U-21-SCR54(for UV)
Diameter(mm):54
Thickess(mm):2~2.4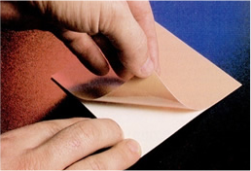 Adhessie-backed IR Sensor Screens
Thin flexible screens may be cut into any desired configuration and bonded to most surfaces by peeling the protective back and pressing in place. The phosphors are coated on transparent Mylar with a membrane adhesive back. The sensor screen will have the greatest IR sensitivity when bonded to a reflective material but may be applied to transparent material for viewing from both sides of the screen. All of our phosphors come in this format.

<Product Number>
Q-**-ADQ22
Size(mm):51 x 51

Q-**-ADQ44
Size(mm):102 x 102

Q-**-ADQ80
Size(mm):203 x 254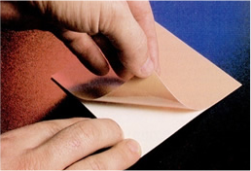 Adhessie-backed UV Sensor Screens
Thin flexible screens may be cut into any desired configuration and bonded to most surfaces by peeling the protective back and pressing in place. The phosphors are coated on transparent Mylar with a membrane adhesive back. The sensor screen will have the greatest UV sensitivity when bonded to a reflective material but may be applied to transparent material for viewing from both sides of the screen.

<Product Number>
U-21-ADQ22
Size(mm):51 x 51

U-21-ADQ44
Size(mm):102 x 102